On the third Saturday of each month at 11 am, members (and their invited guests) meet at the club rooms, to discuss our hobby, exhibit projects underway, and generally socialise. Decisions made by the committee are also tabled at the gathering, and any significant issues may be discussed at the gathering.
The exact format varies from month to month, but generally there will be a focus for the meeting, which may be a presentation by a guest from another organisation, a member of the club, or a video on some topic of interest. The club's extensive library is also open, with members taking advantage of our loan service.
Following the monthly gathering, we have a members only run. This allows members to operate their trains without the pressure and constraints of carrying the public.
Club runs occasionally are themed, perhaps around prototypical shunting operations, efficiency trials, or the ever popular night runs.
If you are new member and would like to learn to operate a locomotive please don't hesitate to ask and we will direct you to the appropriate trainer.
Time: 11am on the 3rd Saturday of each month.
New member inquiries are most welcome.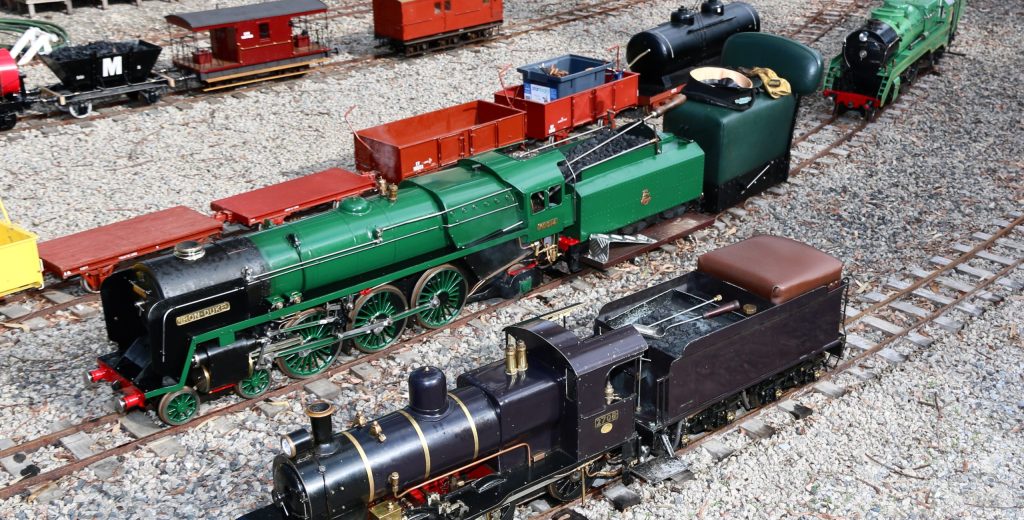 A very popular meeting occurs every Thursday morning from about 9 am until around 12 noon. Some members bring their own lunch and stay a bit longer. The name "Silvertops" is a reflection of the general age of the group. This activity is in no way formal, morning tea is provided at a small cost, and visitors are most welcome.
No particular activity is arranged and most members use their time to visit the library, chat with others, run locomotives or use the workshop
facilities. Those working towards obtaining a full locomotive driving licence may clock-up some hours driving, the tracks are usually open. Others bring items of work to show or discuss. It is a very useful forum for getting advice.
Occasionally some jobs are done around the site but this is not the aim of the day.
SLSV is currently open to new members. If you are interested, please come and visit on any Thursday morning or the 3rd Saturday when we get together.
You don't need to own a locomotive or even be building one, you just need to have an interest in the hobby generally and to share your interest with like-minded people
Other pages in this website give a good description of the facilities the Club has to offer. What it doesn't say is the camaraderie offered by belonging to an organisation that is well managed, has a wealth of knowledge about railways, locomotives and anything connected to operating a miniature passenger hauling railway; this also covers signalling, track work, gardening and maintenance of the Club's fleet of rolling stock.
Our members are also interested in all aspects of model engineering, not just those related to steam powered models but also those involving workshop equipment and electrically powered railway models. The club owns and maintains a fleet of prototypical diesel outline electrically powered locomotives
Our members come from all walks if life, sales, office, building, medical, optical and many other fields including from the railways
As a member you would have the opportunity to drive a small locomotive either steam or electrically powered under supervision, and if you are further interested there is always help to get you started with your own endeavours.
If you would like to know more
Contact secretary@steamlocovic.com or just come along at one of our get-togethers. You will be made very welcome.
where: 128 Rowans Rd Moorabbin